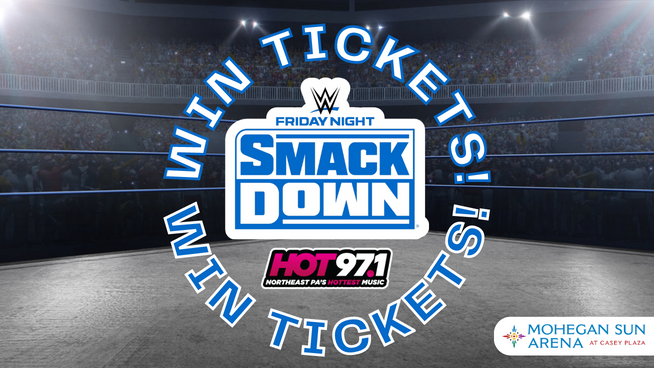 WWE SMACKDOWN
JUNE 3RD | MOHEGAN SUN ARENA
A smackdown is when one gets beaten in battle so completely that there's no doubt about who won the fight. There could be no more appropriate name for this WWE staple, one that has seen some of the bloodiest and most intense fights of the modern WWE era.
After taking over the WWE in the early 1980s, CEO Vince McMahon was on a tear to step up the organization's game and bring its message to new generations and demographics of fans. He started by hiring prospective superstars like Hulk Hogan and Roddy Piper and setting up events like WrestleMania.
By the late '90s, new additions like Stone Cold Steve Austin, The Rock, Mick Foley, Triple H, Kurt Angle, Kane, and The Hardy Boyz necessitated something… bigger. This period was called the "Attitude Era," it needed an appropriately grand event to showcase these newer fighters, and Vince McMahon had come up with storylines that required more space. McMahon created WWE SmackDown Live in 1999 for just this purpose. The new weekly event was a brand extension meant to exist alongside Raw, another massive wrestling show, but eventually the two overlapped.
Since it arrived in the middle of the "Attitude Era," where fighters were becoming increasingly abrasive and personal with their drama, SmackDown featured more adult-oriented content, politically incorrect characters, and immersive and intense feuds. And for many, it was as important as something like Monday Night Football.
SmackDown has been broadcast from more than 160 arenas in more than 140 cities, and it has taken place in seven countries. As of October 2018, the show had taped more than 1,000 episodes. Throughout its history, SmackDown has had a solid diversity of material, with special episodes like "Christmas from Baghdad," the "Eddie Guerrero Tribute Show," "SmackDown All-Star Kick-Off," "Sin City SmackDown," and "The Rock Return Show."

Official Rules for Win WWE Tickets 3-6 to 3-10